I'm finding significant differences between the matter power spectrum obtained through a direct CAMB call, and that available through the PK%PowerAt function in CosmoMC.
Here's the minimal way I was able to reproduce the issue:
1) I downloaded the latest version of CAMB (as of the time of this post), changed "get_transfer = T" in params.ini and plotted the contents of the resulting "test_matterpower.dat"
2) I downloaded the latest version of CosmoMC and added a print statement that prints a k array and the output of PK%PowerAt at those values of k and z=0. I compiled and ran CosmoMC with a minimal .ini file that sets the cosmological parameters to those printed out by CAMB in step 1). I copied the output and overplotted. I find that the resulting matter power spectra P(k,z=0) agree to roughly 1%.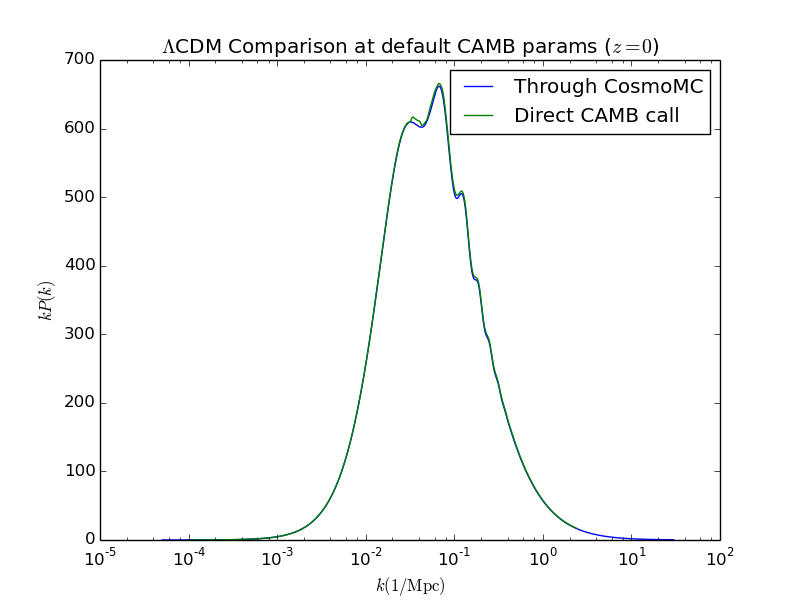 3) I now changed only w=-1 to w=-1.5 in both the CAMB params.ini file and the CosmoMC .ini file and reran both. This results in a disagreement of nearly a factor of two around k~0.01, smoothly changing to percent level agreement at k~1.
A colleague of mine independently verified this problem. Thanks in advance for any help or insights you can offer.